Top Stories
PHYSICALS WILL BE GIVEN AT THE SCHOOL ON FRIDAY, JUNE 30 FROM 8:30 - 11:30. TO SCHEDULE AN APPOINTMENT, CALL 785-885-4849 OR STOP BY THE HIGH SCHOOL OFFICE. FOR NEXT YEAR'S CALENDAR CLICK ON 2017-18 CALENDAR.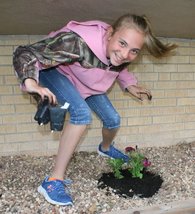 The Natoma High School, Junior High, and Elementary students made the city look great to celebrate Earth Day. Students and faculty picked up trash, trimmed and removed branches, cleaned and painted city buildings, collected old appliances and furniture, and worked at the baseball field. All of the activities were successful in improving our city. This project has been supported by a grant from Dane G. Hansen . . .

....the Activities Calendar is the Answer
Check out the Activities Calendar on this site. This easy-to-use tool: provides up-to-date school activities and events . . .